Our Vision – What we're working towards
DC learners of all ages and backgrounds are equipped with the knowledge and skills needed to pursue and thrive on the life path of their choice.
Our Mission – How we'll get there
As DC's state education agency, we will set high standards, build educator and system capacity to meet those standards, expand educational opportunities for all learners with a focus on those underserved and hold everyone - including ourselves - accountable for results.
Our Priorities – Seven strategic priorities will drive progress towards achieving our vision over the next three years. Click on each of the icons below to learn more.
---
Latest Updates – Each month, we are featuring an update on our seven strategic priorities in a new monthly newsletter. We will also dive deeper into a particular initiative or project to share the stories and data behind our plan in action. Click on the icon below to learn more.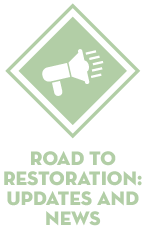 Sign Up to Subscribe to Road to Restoration: Updates and News