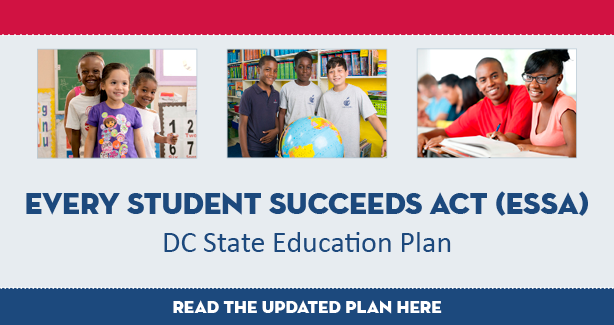 The May 2 version of the DC State Education Plan is in response to the US Department of Education's preliminary completeness check. Based upon this review, one modification was made; see pages 61-62. The DC State Education Plan will undergo further review as part of the Department of Education's peer review process. Learn more about the peer review process.

DC's New State Education Plan: Framework
How Will the State Plan Improve Outcomes for Students?
Full Updated DC State Education Plan
OSSE Response to Public Comment and Summary of Changes
Accountability System Business Rules
ESSA Guidance for LEAs
DC State Education Plan
How Can You Get Involved?
DC's New State Education Plan: Key Activities and Dates
Resources, Updates, and Meeting Recaps
Communication and Guidance
Additional Reference Materials from Other Sources
Questions? Please contact [email protected].
---