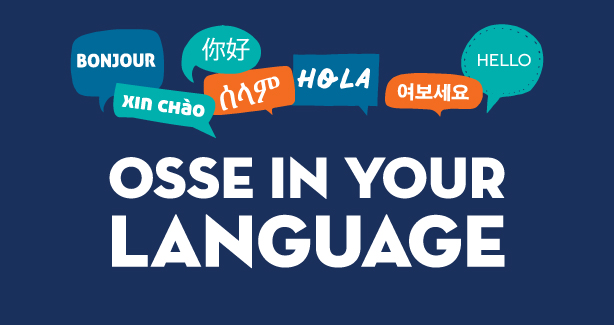 Read about OSSE In Your Language: አማርኛ | 中文 | Français | 한국어 | Español | Tiếng Việt
Mission
As DC's state education agency, we will set high standards, build educator and system capacity to meet those standards, expand educational opportunities for all learners with a focus on those underserved and hold everyone - including ourselves - accountable for results.
Vision
DC learners of all ages and backgrounds are equipped with the knowledge and skills needed to pursue and thrive on the life path of their choice.
What Does OSSE Do?
The Office of the State Superintendent of Education (OSSE) is the state education agency for the District of Columbia charged with raising the quality of education for all DC residents. OSSE serves as the District's liaison to the U.S. Department of Education and works closely with the District's traditional and public charter schools to achieve its key functions:
Overseeing all federal education programs and related grants administered in the District of Columbia.
Developing state-level standards aligned with school, college, and workforce readiness expectations.
Ensuring access to high-quality child care and universal pre-kindergarten for eligible District families.
Providing resources and support to assist the District's most vulnerable student populations.
Administering the annual Partnership for Assessment of Readiness for College and Careers (PARCC), and DC Science, the statewide student academic achievement exams.
Providing regional, door-to-door transportation to school for District children with disabilities.
Awarding higher education financial assistance to eligible District students at public and private colleges and universities in DC and across the country.
Increasing health and physical education awareness as well as ensuring access to free meals year-round.
Overseeing the DC State Athletic Association (DCSAA), which provides interscholastic athletic programming that enriches the education experiences of all student-athletes.
Reporting statewide school data on traditional and public charter schools and student outcomes.
Leading the development and implementation of a new plan for school support and improvement under the Every Student Succeeds Act.
Selected Services
DC School Report Card
The DC School Report Card gives families a look into all public schools in the District of Columbia. A school report card is a tool that provides you with information about a school overall, and helps you understand how well a school is doing or where it needs more support. All states, including DC, are required to create report cards by law called the Every Student Succeeds Act or ESSA. While the report cards are federally required, they must also be helpful for the families and community members using them to engage in their child's school. Over the past year, the Office of the State Superintendent of Education (OSSE) has heard over 4,000 voices of parents and community members guiding the development of the report card.
The DC School Report Cards pull high-quality data from the same source school leaders and policymakers use to give everyone in DC a common set of facts about how schools are doing. The DC School Report Card provides over 150 data elements, including the School Transparency and Reporting (STAR) Framework and many other data points which are not part of the STAR Framework in academic programming and extra-curricular offerings, academic performance, school environment, and more.
Read more below to find out about the DC School Report Card or go to DCSchoolReportCard.org.
English Learner (EL) Program
"All schools in the District of Columbia have an obligation under federal law to ensure that English learners (ELs) develop English language proficiency and meet the same challenging state academic standards as their native English-speaking peers.
Upon initial enrollment in a District of Columbia Public or Public Charter School, all parents/guardians are asked to complete a Home Language Survey that determines if the child should be screened for English language proficiency. If the test score qualifies the child for placement in the language assistance program, the child will receive specialized instruction at their school to develop their English language abilities until they receive a qualifying score on the annual test of English language proficiency. Students who exit the language assistance program based on their test score are monitored by their schools for English language proficiency and academic content knowledge for four years.
Parents and guardians are encouraged reach out to their child's school to learn more about the language assistance program, their child's English language development, and how they can be involved in their child's education".
DC Tuition Assistance Grant (DCTAG)
The DC Tuition Assistance Program (DCTAG) was created by Congress in 1999 for the purpose of expanding higher education choices for college-bound residents of the District of Columbia. All public institutions, Historically Black Colleges and Universities (HBCUs), and private nonprofit colleges and universities within the Washington Metropolitan area are eligible to participate in DCTAG.
DCTAG expands higher education choices for District residents by providing grants of up to $10,000 toward the difference between in-state and out-of-state tuition at public colleges and universities throughout the US, Guam and Puerto Rico. DCTAG also provides up to $2,500 per academic year toward tuition at private colleges in the Washington, DC metropolitan area, and private Historically Black Colleges and Universities (HBCUs) nationwide. Currently DCTAG has students in attending over 300 colleges and universities. To learn if your college or university participates in DCTAG please visit our list of participating colleges and universities: https://osse.dc.gov/dctag.
Mayor's Scholar's Undergraduate Program
The Mayor's Scholars Undergraduate Program provides need-based funding for eligible DC residents earning their first associate's or bachelor's degree at select area colleges and universities. The program is a last-dollar award designed to fill the gap between a student's financial aid package and the cost of attendance. Typically, recipients of Mayor's Scholars funding can receive up to $4,000 per academic year, for up to four years for an associate's degree, and up to six years for a bachelor's degree. The funds are available first-come, first-serve, and applicants must re-apply each year.
The Mayor's Scholars Undergraduate Program provides assistance to District residents attending selected colleges and universities in the DC metropolitan area. Recipients must either have earned a high school diploma or a high school equivalency credential (e.g., a GED) in the past ten years. Please visit the Mayor's Scholars website for more information and to apply: https://osse.dc.gov/mayorsscholars.
The Partnership for Assessment of Readiness for College and Careers - PARCC
The Partnership for Assessment of Readiness for College and Careers, or PARCC, is the District of Columbia's annual assessment of mathematics and English language arts (ELA), based on the Common Core State Standards (CCSS). The PARCC assessments measure the knowledge and skills that matter most for students — understanding complex texts, evidence-based writing, mathematical problem-solving — all skills that lead to confidence and success in key academic areas. Students in grades 3 through 8 and high school take PARCC assessments in ELA and mathematics online each spring. PARCC results are one of several measures — including report card grades, classroom performance, and teacher feedback — that together create a broader picture of a child's progress. To learn more about the PARCC assessment and resources available to educators and families, please explore the resources below.
Students in grades 3 through 8 and high school take PARCC assessments in ELA and mathematics online each spring. PARCC results are one of several measures — including report card grades, classroom performance, and teacher feedback — that together create a broader picture of a child's progress.
Student Transportation (OSSE DOT)
The Division of Student Transportation (OSSE DOT) is a regional transportation system that transports eligible special needs students in the District to school each day, safely and on-time. OSSE DOT has more than 521 buses that travel approximately 34,000 miles each day, originating from four bus terminals throughout the District of Columbia.
The Parent Resource Center (phone number: (202) 576-5000 is dedicated to providing quality customer service by promptly addressing student transportation matters. Customer Service Representatives make outbound calls to advise parents and guardians of bus delays of 20 minutes or more and communicate route schedule changes due to inclement weather or other emergencies. When questions are directed to the Parent Resource Center, Customer Service Representatives use GPS technology, communicate with terminals and drivers, and research using the student database to find real-time information, resolve concerns, and answer pertinent questions.
Assistance Paying for Child Care: Child Care Voucher Program
The District of Columbia operates a federally-funded child care assistance program that helps eligible families pay for child care. The child care voucher program offers families a wide range of child care options. The variety of schedules and types of programs enable families to choose the setting that best meets their needs. Your family may apply for a child care voucher by visiting the Department of Human Services, Economic Security Administration, Child Care Services Division office during business hours. You may also apply directly at an authorized Level II Child Care Provider you have selected (facility must be authorized to complete intake).
After you complete and submit the Subsidized Child Care Service Application, you must schedule an interview with the Eligibility Worker at your initial intake site. During the interview, the Eligibility Worker will obtain a thorough understanding of all relevant eligibility factors for you and your family. The program serves eligible children from 6 weeks through 12 years. However, children with disabilities may qualify up to their 19th birthday.
Interested in providing care for children receiving the Child Care Subsidy?
Contact the Division of Early Learning to get information about becoming a Child Care Subsidy Provider. You must already be a licensed, District of Columbia Child Development Facility Provider to apply. Get information on becoming a Licensed Child Care Provider.
Providers approved for participation in the Child Care Subsidy Program will be allowed to serve families receiving subsidy vouchers for up to 95 percent of your licensed capacity. You cannot be reimbursed for child care services provided until the Agreement is approved by the Division of Early Childhood Education in writing.
Strong Start DC Early Intervention Program (DC EIP)
"Strong Start DC Early Intervention Program is a statewide, comprehensive, coordinated, multidisciplinary system that provides early intervention therapeutic and other services for infants and toddlers with disabilities and developmental delays and their families. The federal Individuals with Disabilities Education Act (IDEA), Part C, along with the District of Columbia Public Law 1-2-119 mandate that infants and toddlers with disabilities and their families receive coordinated services early enough to make a difference. These services must be flexible, culturally responsive, and most importantly, meet the needs of the child and the family.
The Strong Start DC Early Intervention Program serves as the single point of entry for infants and toddlers in Washington DC whose families have concerns about their development. If you have concerns about your infant or toddler, call the Strong Start Child Find Hotline at (202) 727-3665."
My School DC: Search for Public School Options in DC
My School DC is the common application and lottery for all DCPS schools and participating public charter schools serving grades PK3 through 12. A My School DC application is required for students seeking a PK3 or PK4 program at a DCPS school (including their in-boundary school); an out-of-boundary or citywide DCPS school (PK3-12); a DCPS selective high school or program (9-12); or a public charter school (PK3-12). Visit the My School DC website to learn about the city's public school options and apply. Contact the My School DC hotline at (202) 888-6336 on weekdays 8 a.m.-5 p.m. for assistance in your language or email [email protected] with questions.
Verify DC Residency to Enroll in School
To be enrolled in any DC public school, a parent or primary caregiver must show original documents as proof of DC residency for each student assigned to or wishing to attend a traditional public or public charter school in the District. A completed DC Residency Verification Form must be completed to determine residency.
One of the following items is accepted to establish DC residency:
A pay stub;
Supplemental Security Income annual benefits notification;
A copy of Form D40 certified by the DC Office of Tax and Revenue;
Military Housing Order;
An embassy letter;
Proof that a child is a ward of the District of Columbia, in the form of a Court Order; and
Proof of financial assistance from the DC Government, in the form of either a:
Temporary Assistance for Needy Families (TANF) verification of income notice or recertification approval letter;
Medicaid approval letter or recertification letter;
Housing assistance letter from a housing shelter, including contact name and phone number or a letter from the Housing Authority; or
Proof of receipt of financial assistance from another DC Government program.
If none of the above items are available to verify residency, two of the following items are required:
Unexpired DC motor vehicle registration;
Unexpired lease or rental agreement;
Unexpired DC motor vehicle operator's permit or other official non-driver identification; and
One utility bill (only gas, electric and water bills acceptable).
In determining residency, OSSE may require additional documentation. A list of documents families may be asked to supply to verify residency status beyond those outlined above include:
DC Free Summer Meals Program
The DC Free Summer Meals Program is a Federal Nutrition Program designed to feed children free, nutritious meals and snacks during the months of June, July, and August when school is out. There is no application necessary to receive a meal and the program is free to all children ages 18 and younger. Children need simply visit a DC Free Summer Meal site during meal time. DC Free Summer Meals sites serve nutritionally balanced meals that meet USDA guidelines. Many meal sites additionally offer safe, fun, and enriching activities. Find a DC Free Summer Meals location near you: https://www.fns.usda.gov/summerfoodrocks.
Office of Dispute Resolution: Due Process Hearing Request
The Individuals with Disabilities Education Act (IDEA) requires that each state and the District of Columbia establish and maintain procedures to ensure that parents of children with disabilities and public educational agencies have an opportunity to seek an impartial due process hearing to resolve disagreements over the identification, evaluation, educational placement of a child with disabilities, or the provision of a free appropriate public education to the child. The Office of Dispute Resolution within the Office of the State Superintendent of Education (OSSE) is responsible for the conduct of special education due process hearings.
A special education due process hearing provides the opportunity for both the parents and the public educational agency to present their point of view on the issue(s) of disagreement through witnesses and documents to a trained, independent and impartial hearing officer. The hearing officers are not employees of the District's public education system. After the hearing is held, the hearing officer will make a final decision on the issues of disagreement and provide it to the parent and public educational agency. A due process hearing decision can be appealed to court.
IDEA requires that specific procedure be followed by both parties when requesting a due process hearing and there are specific timelines and rules for the parent, the public educational agency, and the hearing officer to follow. Due to the formality of this process and the legal nature of the proceedings, parents often have an attorney represent them, but may represent themselves.
For more resources for families and students, visit the Office of Dispute Resolution webpage at https://osse.dc.gov/service/office-dispute-resolution-odr.
Homeless Education Program
The mission of the Homeless Education Program is to ensure free, appropriate, public educational opportunities for homeless children and youth; to provide technical assistance to schools, shelters and the community; and to heighten awareness of homeless issues. Homeless children and youth should have equal access to the same educational opportunities and services as non-homeless children and youth. In addition, homeless children and youth should have the opportunity to meet the same challenging academic achievement standards to which all students are held.
Language Access Services
For oral language interpretation and/or translation, please contact the agency language access coordinator, Elsa Teklehymanot at [email protected] or (202) 727-6436.
Contact Info
Office of the State Superintendent of Education
1050 First St. NE
Washington, DC 20002
Phone: (202) 727-6436