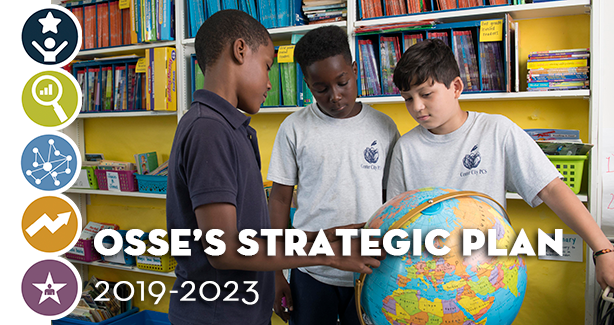 ---

DC will close the achievement gap and ensure people of all ages and backgrounds are prepared to succeed in school and in life.

As DC's state education agency, OSSE works urgently and purposefully, in partnership with education and related systems, to sustain, accelerate, and deepen progress for DC students.

---

SET HIGH EXPECTATIONS
We set and maintain high standards for program quality and high expectations for learners to ensure our educational systems are driving toward excellence and equity.

SHARE AND USE ACTIONABLE DATA
We collect and share reliable and actionable data to inform policy decisions, empower our partners to improve, and build community understanding.
BUILD ECOSYSTEM CAPACITY
We convene partners, provide targeted support, and invest resources to improve quality, increase access, and advance equity in education.
MAXIMIZE OSSE'S IMPACT
Above and beyond our focus on all students, we bring specific focus to two areas: Early Childhood, to ensure that DC's significant investments are leveraged to maximize impact on long-term outcomes in school and in life, and Special Education, to catalyze progress and dramatically shift the trajectory of growth for students with disabilities.
CONTINUE COMMITMENT TO OUR TALENTED TEAM AND CULTURE OF EXCELLENCE
Our foundation is our team at OSSE. We build and sustain a culture rooted in our core values of Focus on Students, Organizational Excellence, Determination, Partnership, and Teamwork and Collaboration.