The Office of the State Superintendent of Education (OSSE) is committed to ensuring that statewide assessments are accessible to the widest possible number of students, including but not limited to students with disabilities, English learners, and English learners with disabilities.
Students who take statewide assessments may use a wide array of accessibility features, which are tools or supports that increase access to test content and are available for use by all students who need them. Examples include: highlighter, answer masking, color/contrast.
Similarly, administrative considerations may be granted to any student who may need them, at the discretion of school leaders. Administrative considerations are decisions made about a student's testing environment (e.g., small group testing, special seating arrangements, or frequent breaks).
In addition to accessibility features and administrative consideration for all students, OSSE supports the use of appropriate testing accommodations for all District of Columbia's students with disabilities, English learners, and English learners with disabilities. OSSE has developed guidance to ensure that:
Participation in assessments for SWDs and ELs is consistent in all District of Columbia districts, schools and programs;
Appropriate accommodations are provided to all eligible qualified students; and
Accommodations used in assessment are also used in daily instruction.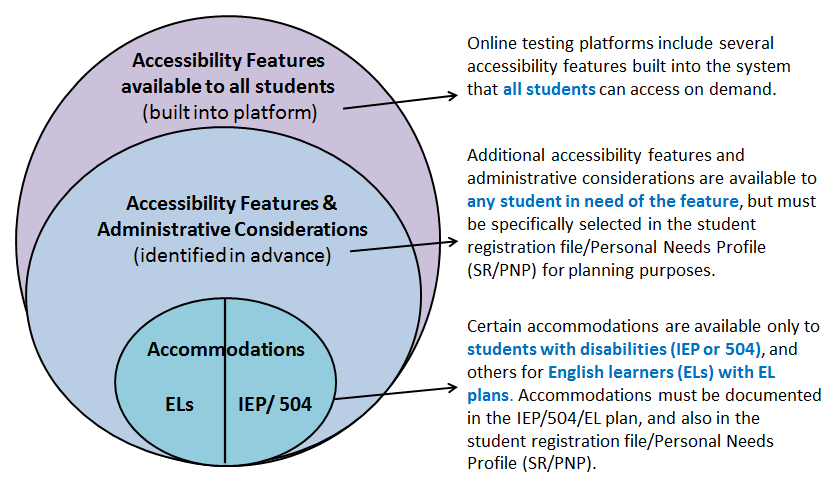 Testing Accommodation and Accessibility Features Resources
Cross-Assessment OSSE Guidance Documents
Request Forms for 2022-23 Assessment Administration
WIDA ACCESS for ELLs Accommodations
Training Information
PARCC and DC Science Accessibility Features and Accommodations Manual
The eigth edition of the PARCC & DC Science Accessibility Features and Accommodations Manual is a comprehensive policy document that provides guidance to districts and decision-making teams to ensure that the PARCC and DC Science summative assessments provide valid results for all participating students.
MSAA Accommodations
NAEP Accommodations
Resources for Parents
Archive 2015-16 School Year SEDS Release
Archive Accommodations Studies
OSSE is committed to ongoing evaluation of accommodations available to students with disabilities and Limited English Proficient (LEP) students. As a part of this effort, OSSE commissioned a study in 2009 on the use of accommodations by students with disabilities on the annual statewide assessment. The detailed report is available upon request. However, a summary of findings from the report is available.
Office Hours:
Monday to Friday 8:15 am to 4:45 pm