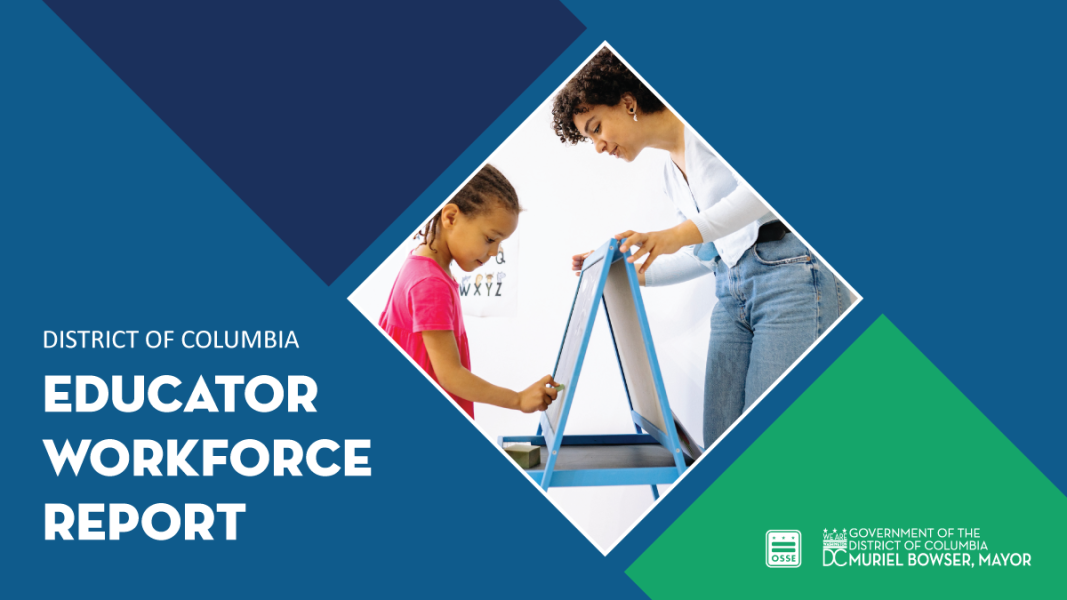 Educators are the District of Columbia's greatest strength. Data collected annually by the Office of the State Superintendent of Education (OSSE) from all DC local educational agencies (LEAs) demonstrate that the District's educator workforce includes a strong pool of educators serving our LEAs, schools and students.
2021-22 School Year Education Landscape Data

Educator Workforce Reports
In fall 2019, OSSE, in collaboration with TNTP, released its inaugural DC Teacher Workforce Report. In winter 2022, OSSE released a snapshot of DC's Educator Retention Data, and in winter 2023, OSSE published updated Educator Retention and Vacancy Rate Data. In spring 2022, OSSE released the comprehensive DC Educator Workforce Report, which includes data from all DC LEAs.
These reports demonstrate that DC's educator workforce includes a strong pool of educators. They are designed to catalyze citywide conversations about talent priorities in DC and inspire collaborative efforts to address those priorities.
Educator Workforce Data Files
In concert with the public release of the 2022 Educator Workforce Report, OSSE is publicly releasing LEA Faculty and Staff data, including demographic, retention, citywide teacher supply (from Educator Preparation Providers) and demand (teacher vacancies at LEAs) data via a flat data file. The date in the Educator Data Flat File are included in the 2022 Educator Workforce Report.
For additional information about OSSE's educator data collection processes, please visit the Faculty and Staff Data Collection and the Education Preparation Providers pages on the OSSE website.