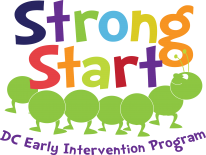 Effective June 14, 2021, Strong Start began resuming in-person visits upon parent request. A family may request to receive services completely through in-person visits, through a combination of in-person and telehealth visits, or completely through telehealth visits. In-person visits are conducted either in the child's home or child development facility. Start the referral process to today by calling the Strong Start Child Find Hotline at (202) 727-3665 or submitting a Strong Start referral online.
About Strong Start
Strong Start DC Early Intervention Program is a statewide, comprehensive, coordinated, multidisciplinary system that provides early intervention therapeutic and other services for infants and toddlers with disabilities and developmental delays and their families. The federal Individuals with Disabilities Education Act (IDEA), Part C, along with the District of Columbia Public Law 1-2-119 mandate that infants and toddlers with disabilities and their families receive coordinated services early enough to make a difference. These services must be flexible, culturally responsive, and most importantly, meet the needs of the child and the family.
The Strong Start DC Early Intervention Program serves as the single point of entry for infants and toddlers in Washington DC whose families have concerns about their development.
The Strong Start program uses the primary service provider (PSP) and teaming approach – a recognized best practice for providing early intervention services to children with a developmental delay or disability. Using this approach, families are matched with a lead early interventionist who serves as the primary provider on a child's team. More information on the PSP approach is available in English and Spanish.
Outreach Materials
Office Hours:
Monday to Friday 8 a.m.- 5 p.m.