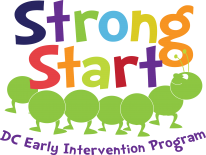 Notice: As of Aug. 27, Strong Start Team Relocated to OSSE's Main Office due to Flooding
The Strong Start office located at 1371 Harvard St., NW Washington, DC, is closed indefinitely due to extreme flooding in the building  over the weekend of Aug. 25-26, 2018. The Strong Start team has relocated to the main location of the Office of the State Superintendent of Education (OSSE) at 1050 First St. NE, Sixth Floor, Washington, DC. Strong Start will continue to conduct business as usual, however, community playgroups previously scheduled at the Harvard St. location are cancelled until further notice.
For assistance please contact the Strong Start hotline at (202) 727-3665.
Strong Start DC Early Intervention Program is a statewide, comprehensive, coordinated, multidisciplinary system that provides early intervention therapeutic and other services for infants and toddlers with disabilities and developmental delays and their families. The federal Individuals with Disabilities Education Act (IDEA), Part C, along with the District of Columbia Public Law 1-2-119 mandate that infants and toddlers with disabilities and their families receive coordinated services early enough to make a difference. These services must be flexible, culturally responsive, and most importantly, meet the needs of the child and the family.
The Strong Start DC Early Intervention Program serves as the single point of entry for infants and toddlers in Washington DC whose families have concerns about their development.
Office Hours:
Monday to Friday 8 a.m.- 5 p.m.