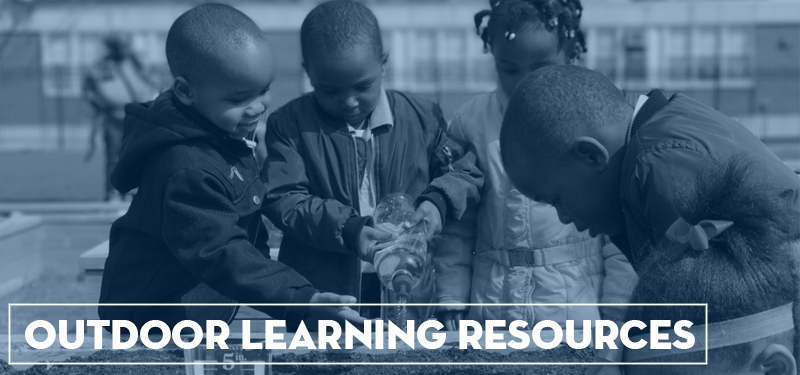 OSSE has compiled resources to support the establishment or enhancement of outdoor learning on school grounds for schools.
Below is a list of resources currently available. Additional resources are in development and will be posted soon. Please let us know what resources would support outdoor learning in your school by completing this survey.
How to Begin
The CDC's Operational Considerations for Schools includes moving classrooms outside if the conditions are safe and conducive to a learning environment (must consider weather conditions, pollution, wildlife, etc.), as well as having meals outside.
Numerous benefits to students, especially in areas that have been severely impacted by the pandemic.
Planning and Designing Outdoor Spaces
Outdoor Learning Training Series
Designing Spaces
Outdoor Weather and Allergies
Examples of Materials
Procurement and Funding
Alternative Locations

Park Rx America identifies parks within a 0.5 or 1.0 mile radius of an address
Resources for Teachers and Educators
Outdoor Learning Training Series
Webinars
Maryland Association for Environmental and Outdoor Education's 5-Part Training Series: Using the Outdoors as a Classroom
Division of Early Learning Nature-Based Trainings

Any DC early childhood education teacher can register for OSSE's Professional Development Information System (PDIS), which provides numerous PD courses and reference materials designed for educators working with the District's youngest learners (ages 0 to 8). Register here for an account. View upcoming PD sessions in the catalog here.
| | | |
| --- | --- | --- |
| Date | Title | Registration Link |
| June 17, 2022 | Quality Interactions during Nature Walks and Outdoor Play (WEBINAR) | dcpdis.org/228108 |
| July 15, 2022 | From Garden to Classroom: Making Recipes with Kids (WEBINAR) | dcpdis.org/228109 |
| July 22, 2022 | Nature Walks to Learn about the Ecosystem (WEBINAR) | dcpdis.org/230454 |
| Aug. 12, 2022 | From Garden to Classroom: Making Recipes with Kids (WEBINAR) | dcpdis.org/228110 |
Resources for Meal Service Providers
Case Studies
Additional Information