The Child and Adult Care Food Program (CACFP) provides a monthly financial subsidy, training and technical assistance, nutrition education, and food safety information to child development centers, adult day care centers, sponsored day care homes, afterschool programs, and emergency shelters serving nutritious meals and snacks to eligible infants, children, and adults. CACFP meals must meet the Federal guidelines. 
Reimbursements are provided to reduce the net cost of serving healthy meals and snacks to children 12 years of age and under in licensed child development centers and sponsored day care homes; children 18 years of age and under in afterschool programs located in eligible areas as well as in emergency shelters for homeless and runaway youth; and functionally impaired adults and adults 60 years and over in licensed adult day care centers.
Learn More about the CACFP
CACFP Program Overview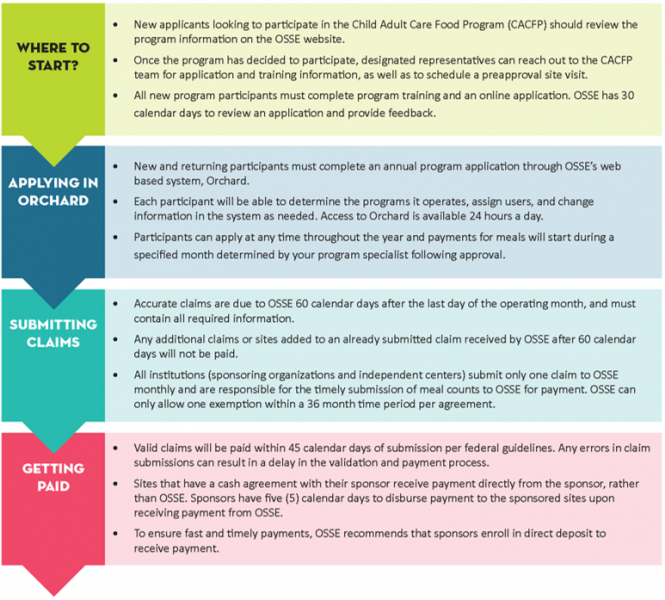 *Printable CACFP Program Overview
Resources for Current CACFP Participants
Healthy Menu Planning and Wellness Resources
Resources
Serving Meals to Infants (ages 0 – 11 months)
Serving Meals to Children (ages 1 – 18)
Serving Meals to Adults (ages 18 and older)
At-Risk Afterschool Meal Program
Service Contact:
Division of Health & Wellness
Office Hours:
Monday to Friday, 8:30 a.m. to 5:30 p.m.