Robert L. Taylor, Motor Vehicle Operator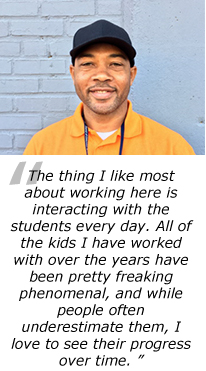 Division: Student Transportation
Joined OSSE: September 2006
Hometown: Washington, DC
Education: Cardozo High School
Must read books:
The Autobiography of Malcolm X
Souls of Black Folks, W. E. B. Du Bois
The Basic Guide to How to Read Music, Helen Cooper
What do you wish you knew before joining?
I wish I had more experience driving commercial vehicles in the city-I love to drive and have a lot of experience driving, but parking an oversized vehicle and turning on inner city streets is really tough. Drivers in the city are pretty aggressive drivers so being in a bigger vehicle it's always tough to navigate through the road rage.
You also definitely have to possess great people skills to work as a Bus Driver-you deal with a lot of people all day. You will be transporting students on the bus, but you will also be engaging with a good number of the 200+ co-workers at your terminal. The OSSE Division of Transportation has about 1,200 team members. You have to be flexible and ready to make new working relationships all the time, especially with the bus attendants that will be accompanying you on the bus route.
What do like most about working at OSSE?
The thing I like most about working here is interacting with the students every day. All of the kids I have worked with over the years have been pretty phenomenal, and while people often underestimate them, I love to see their progress over time. I get to build relationships with these kids-each day I get to learn something new about them to help make their day better.
What's a typical day at work like for you?
Come in, inspect my bus, spend a few minutes chatting with a couple co-workers giving them a hard time about their sports teams then I'm off on my route. After my morning route I come back and may work with the Fleet Crew a little bit to make sure buses get all the maintenance they need then I grab lunch with my co-workers. After lunch and some relaxation, I head out to my afternoon route. I also do a lot of rescue routes where I'll help buses that have broken down.
---
Choose a button below to learn more about OSSE: