While the District of Columbia enjoyed a comprehensive and culminating DC College Signing Day event in prior years, feedback from individual schools led us to transition to support school-based celebrations in 2018. To fully embrace and recognize all learners with viable postsecondary plans, the name of the initiative was changed to DC Decision Day.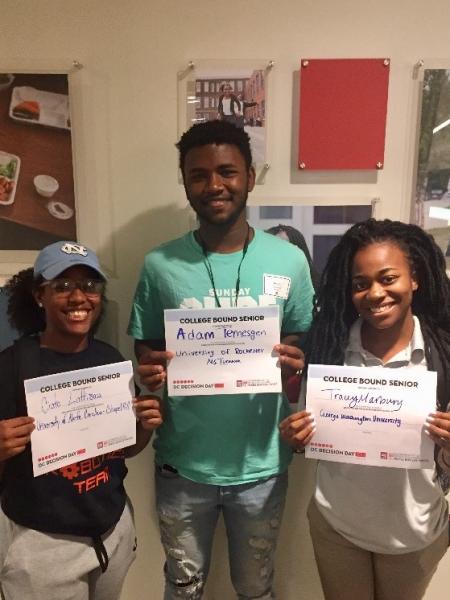 The Decision Day initiative helps to address the gap between college application rates and enrollment rates among our students as well as the often-complicated process of officially pursuing and enrolling in postsecondary options.
DC Decision Day is one of the Office of the State Superintendent of Education's (OSSE's) college-readiness pathway events that, along with College Application and Exploration Month and our Districtwide FAFSA Completion Initiative, help guide seniors and their families in planning for, applying to, paying for and completing college.
Expectations of Host Sites
While each school must decide for itself the benefit of hosting DC Decision Day and organizing an event that meets the needs of the school, it is our goal to see host sites create an event that fulfills the following:
Recognizes all students for their postsecondary plans (two-year, four-year, military, apprenticeship, postsecondary certificate);
Recognition that takes place in front of the entire student body;
Effort to contact local media and community – to encourage publicity beyond the high school building;
Register their event with OSSE and Better Make Room; and
Have fun!
Past DC Decision Day Events
The Office of the State Superintendent of Education (OSSE) celebrated DC Decision Day by highlighting the postsecondary decisions of several high school students from across the District for the 2020-21 school year. Check out the students we honored here.
Capital City Public Charter School
Cesar Chavez – Parkside
OSSE Scholars – using certificate templates from DC Decision Day toolkit
Do you want to see your school featured here?
Be sure to register your event and use DC Decision Day hashtags in your social media campaigns!
@OSSEDC #DCDecisionDay #IHaveAPlan