Elementary and Secondary School Emergency Relief (ESSER) Fund
The US Department of Education (USED) has awarded the Office of the State Superintendent of Education (OSSE) three federal grants for elementary and secondary schools to receive emergency funds. These funds may be used to support Title I-A eligible local education agency (LEA) efforts now and to continue the work of recovery over the next few school years. ESSER Equivalent funding is available to non-Title I-A eligible LEAs.
ESSER Recovery Funding At-A-Glance
The information in this table applies to ESSER eligible LEAs.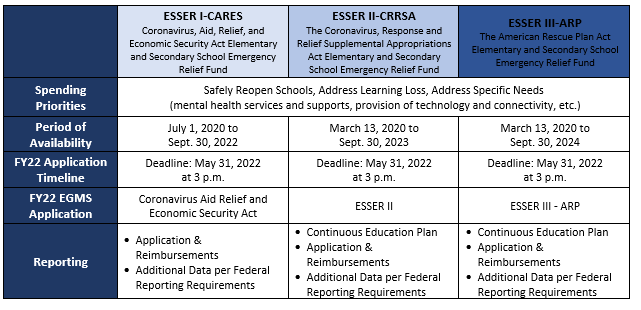 The three federal programs above provide allocation to Title I-A eligible LEAs.
ESSER III-ARP Requirements
Evidence-based interventions to address learning loss: LEAs must spend a minimum of 20 percent of their total allocation to address learning loss through evidence-based interventions and ensure that those interventions respond to students' social, emotional, and academic needs and address the disproportionate impact of COVID-19 on underrepresented student subgroups. Evidence-based interventions sources:
In-Person Instruction and Use of Funds Plans- LEAs Continuous Education Plans (CEP) for the 2020-21 school year already on file with OSSE alongside the CEP that they submitted for the 2021-22 school year cover the federal requirements for LEAs to create safe return to in-person instruction and continuity of services and use of funds. LEAs must publicly post and update their CEP for the 2021-2022 school year every six months, at a minimum, between summer 2021 and Sept. 30, 2023. More information regarding CEPs is available in the Continuous Education Guiding Principles.
Maintenance of Equity (MOEquity)- LEAs must maintain MOEquity in fiscal years 2022 (FY22) and FY23 to ensure that any funding reductions do not disproportionately impact those LEAs and schools with the highest percentages of students from families with low income. Additional details are available on OSSE's MOEquity webpage.
ESSER Documents and Resources
ESSER Resources
ESSER Reporting Requirements Resources
ESSER FY23 Carryover Estimates
LEA ESSER I-III Allocations
ESSER I-CARES
ESSER II-CRRSA
ESSER III-ARP
ESSER Fiscal Requirement Waivers
ESSER I-III Application Resources
ESSER Webinars
ESSER Equivalent Grants
ESSER State Reserve
Per federal requirements, 10 percent of DC's ESSER awards are for state education agency (SEA) reservation, a maximum of 0.5 percent of this total may be used for administrative costs. ESSER III-ARP includes specific set-asides within the SEA reservation.

The American Rescue Plan Elementary and Secondary School Emergency Relief – Homeless Children and Youth Fund (ARP-HCY)
ARP-Homeless will serve as a resource to help LEAs:
Reengage students who have been disconnected due to the COVID-19 pandemic
Connect students to resources such as transportation, housing, medical care, etc.
Recover student learning
American Rescue Plan Act – District of Columbia Homeless Children and Youth State Plan (approved by USED on Dec. 17, 2021) can be found here.
For more information and resources on ARP-HCY, please visit OSSE's Homeless Education Program webpage.
The American Rescue Plan Elementary and Secondary School Emergency Relief – Individuals with Disabilities Education Act
The American Rescue Plan (ARP) funds for FY21 include a supplemental increase to IDEA, Part B through ARP-IDEA 611 and ARP-IDEA 619. The IDEA Part B formula grants assist the District in providing a free appropriate public education (FAPE) in the least restrictive environment for children with disabilities ages 3 through 21. Applications for ARP-IDEA funding will be available in the Enterprise Grants Management System (EGMS) on March 14, 2022.

Additional details about IDEA funding are available on OSSE's Specialized Education Fiscal Policy and Grants Management webpage.
Governor's Emergency Education Relief (GEER) Fund
GEER I: DC's $5,807,678 GEER I award will support provision of technology and connectivity to bridge the digital divide, mental health supports, and school safety in DC schools.
GEER II: DC's $2,415,567 GEER II award will support expanding access to early childhood education.
More information on the GEER program can be found on the US Department of Education's GEER webpage.
Emergency Assistance to Non-Public Schools (EANS) Program
EANS provides support and assistance to eligible non-public schools to safely reopen schools, measure and effectively address learning loss, and take other actions to mitigate the impact of COVID-19 on the students and families who attend non-public schools. More information is available on OSSE's EANs webpage and on the US Department of Education's EANS webpage.
Questions? For more information or questions, please contact [email protected].