Perea Brown-Blackmon surprised in her classroom, rewarded for her service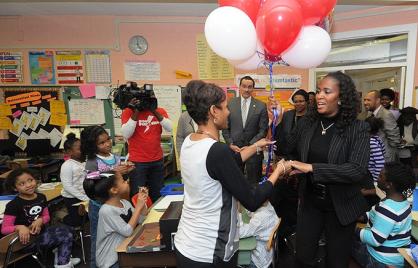 Perea Brown-Blackmon of Langdon Education Campus was honored as 2012 District of Columbia Teacher of the Year by Mayor Vincent C. Gray, State Superintendent of Education Hosanna Mahaley and other District leaders in education.
"Perea Brown-Blackmon is a shining example of not only how an exceptional teacher operates, but how exceptional teaching can be rewarded," said Mayor Gray. "I am proud that such a deserving teacher is receiving this honor to recognize what makes teaching excellent in our great city."

A Montessori Specialist for Grades 3-4 at Langdon Education Campus and a 2011-2012 Rubenstein Award recipient for Highly Effective Teaching, Brown-Blackmon has been praised by parents and colleagues for her innovative teaching style, culturally relevant lessons and hands-on projects to stimulate classroom learning while creatively introducing young students to science, math, technology, writing and interpersonal communication. She has taught at Langdon Education Campus for 17 years. During her tenure she has also served in varied roles including Langdon cheerleading coach, step team advisor, mass choir director, lead teacher and grade level chairperson.

"The 2012 District of Columbia Teacher of the Year Award validates the extraordinary sacrifices our teachers make to ensure student success," added State Superintendent Mahaley. "Perea Brown-Blackmon is a true ambassador for the profession and today reflects what teachers throughout the District can aspire to be."

Note: Nominated citywide and representing both DCPS and District charter schools, the District of Columbia Teacher of the Year is selected annually by a panel of education leaders through an extensive application process that includes a written application and essay, interviews and classroom observation. As 2012 District of Columbia Teacher of the Year, Brown-Blackmon will represent the District in a variety of educational capacities with other state teachers of the year, beginning January 24-29 at the 2012 Teacher of the Year Conference in Dallas, Texas. Along with Brown-Blackmon, other finalists were Steven King of Shepherd Elementary School and Drew Snodgrass of DC Preparatory Academy Public Charter School. All three finalists have been invited to a January 18 State Board of Education public meeting for additional recognition and to participate in a panel discussion on best teaching practices for education in the 21st century.