Significant Disproportionality (20 U.S.C. 1418(d) and 34 CFR §§300.646 and 300.647)
What is significant disproportionality?
Significant disproportionality exists when a student in a racial or ethnic group are more likely to be:
Identified as a student with a disability;
Identified as a student with a particular disability;
Placed in more restrictive settings; and
Suspended or expelled at a higher rate than students in other racial or ethnic groups.
What are the changes?
In December 2016, the US Department of Education (USED) issued new regulations under Part B of the Individuals with Disabilities Education Act (IDEA) on significant disproportionality. Also referred to as "Equity in IDEA," the regulations aim to promote equity by targeting disparities in the treatment of students of color with disabilities.
The new significant disproportionality regulations do the following:
Establish a standard methodology for all states;
Clarify that states must address significant disproportionality in the incidence, duration and type of disciplinary actions, including suspension and expulsion;
Clarify requirements for the review and revision of policies, practices and procedures when significant disproportionality is found; and
Ensure that local education agencies (LEAs) identify and address the factors contributing to significant disproportionality as part of Comprehensive Coordinated Early Intervention Services (CEIS) and allow these services for children ages 3-grade 12 with and without disabilities.
In July 2018, USED issued a final rule that delayed by two years the date for states to comply with the new regulations. Originally set to go into effect on July 1, 2018, implementation of the rules was delayed until July 1, 2020. On March 7, 2019, the US District Court vacated USED's decision to delay compliance with the 2016 regulation on how to calculate significant disproportionality in racial disparities in special education.
On May 20, 2019, USED released a statement directing all state special education offices to calculate district racial and ethnic disparities in special education using the standard methodology established in the 2016 Equity in IDEA rule. Based on the finalized legal decisions on these regulations, OSSE plans to identify LEAs as having significant disproportionality under the new regulations in summer 2019 for the 2018-19 school year. (Note: monitoring reviews occur annually for the prior school year).
Why a standard methodology?
The new standard methodology allows for:
Increased appropriate identification of LEAs with significant disproportionality;
Increased comparability of data across states; and
Increased transparency of each state's definition of significant disproportionality.
What stakeholder input did OSSE solicit?
OSSE facilitated several stakeholder feedback sessions with the State Advisory Panel on Special Education (SAPSE) and LEAs. Please find materials from these sessions below:
What methodology will OSSE use to determine significant disproportionality and why?
Below are the methodologies for each analysis category.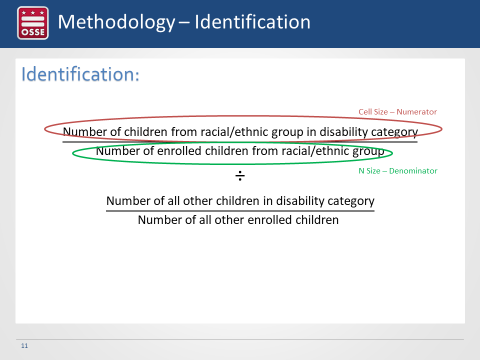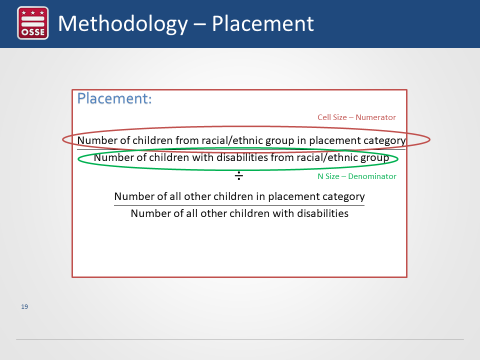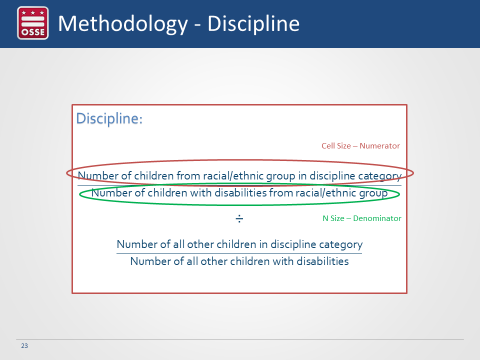 After considering feedback from stakeholders, OSSE determined that the ideal methodology will allow OSSE to identify LEAs that demonstrate any substantive level of need in this area. The methodology will include the following components: N size, cell size and threshold.
| Analysis Category | Minimum Cell Size | Minimum N Size | Threshold | Number of Years of Data Used |
| --- | --- | --- | --- | --- |
| Identification | 10 | 30 | 5 | 3* |
| Identification (Specific Disability Classification) | 10 | 30 | 7 | 3* |
| Placement | 10 | 30 | 5 | 3* |
| Discipline | 10 | 30 | 5 | 3* |
*To gradually implement multi-year flexibilities, for the 2019-20 school year, OSSE will identify LEAs who were identified as having a significant disproportionality for the 2018-19 school year and the 2019-20 in the same analysis category. Beginning in the 2020-21 school year and in following years, OSSE will only identify LEAs that exceed the risk ratio threshold in the same analysis category for three consecutive years.
To learn more about the methodology components and how they affect the calculations of significant disproportionality, please refer to the PowerPoint presentations above.
What will be required of LEAs that are identified?
After an LEA is identified, OSSE must:
Ensure the LEA reserves 15 percent of IDEA funds for Comprehensive CEIS to address factors contributing to the significant disproportionality
Provide for the annual review of policies, procedures, and practices of any LEA that has significant disproportionality
Require LEAs to publicly report on the revision of policies, procedures, and practices
When will these changes go into effect?
All states must be in compliance with the new significant disproportionality regulations immediately. OSSE will notify LEAs of their determination related to significant disproportionality during the summer of 2019 with the Phase I IDEA, Part B application.
Additional Questions?
Please reference the following resources:
OSSE Contact
Karen Donaldson, Ed.S.
Division of Systems and Supports, K-12
Office: (202) 724-7803
Email: [email protected]