The Office of the State Superintendent of Education's (OSSE) Postsecondary and Career Education division manages financial assistance programs for District residents who are enrolling in college. Financial assistance such as scholarships and grants help students enroll in college and pay for educational expenses.
We work with students, families, and our community to minimize college costs by ensuring students receive financial support that allows them to complete a postsecondary program of study on-time and with less debt.
The DCTAG OneApp experienced an unexpectedly high volume of users one hour prior to the 3 p.m. ET deadline on Friday, Aug. 19, 2022. The issue has been reviewed and mitigated.
UPDATE: OSSE will reopen the One App so that students and families with "incomplete" or "incomplete-rejected" DCTAG applications have additional time to complete the application process for the 2022-23 award year.
If your DCTAG application status states "incomplete" or "incomplete-rejected," please log-in to the DCTAG OneApp between Wednesday, Aug. 24, 2022, 9:00 a.m. ET and Friday, Aug. 26, 2022, 3 p.m. ET.
No additional applications will be accepted for review after 3:01 p.m. Friday, Aug. 26, 2022. If you have any immediate questions or concerns, please email Kenneth McGhee at [email protected].
Please visit the pages below for specific program eligibility.
Featured Programs – Applications for the 2022-23 Award Year have closed.
While the 2022-23 applications have closed, you can click on the image below to learn about key components of DCTAG, the DC Futures Program, and the Mayor's Scholars Undergraduate Program to help you decide which of these opportunities might be right for you in the future. You may be eligible to receive all three, but awards depend on criteria that vary by program including the high school you attended, your choice of college or university, cost of attendance, age family income, and college major. Click the program title to get additional information about each opportunity.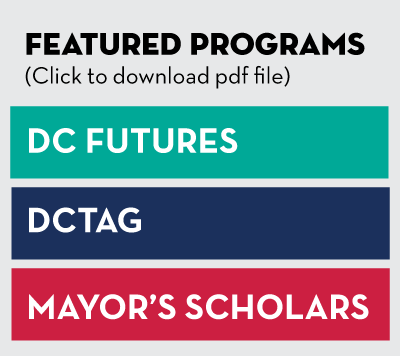 Programs
Resources
Contacts
Kenneth McGhee, DCTAG Director
[email protected]
(202) 481-3946
Kenneth Howard, DCTAG Operations Manager
[email protected]
(202) 741-6483
Christina Beal, Director of College and Career Readiness
[email protected]