Restorative Justice is a culture and set of practices that engage a community in building relationships and repairing harm through mutual, inclusive dialogue, understanding, and cooperation. A whole-school approach to Restorative Justice is more than a set of interventions aimed at students, but rather a way of being that touches all members of the school community and their relationships with each other.
As one DC educator shared, "One of my favorite parts is that Restorative Practices is so user-friendly. There is such a push on the academic piece nowadays and there is a disconnect between the educator and the youth. It is a problem that exists in so many of our schools. RP closes the distance between our educators, adults, and kids. This helps us keep connected as they are getting older. It's a great tool. Not just reactive, but to build community."
OSSE is partnering with Restorative DC, a program of SchoolTalk Inc., to offer virtual trainings on Restorative Justice. Please check the event calendar for upcoming trainings on Restorative DC Events website.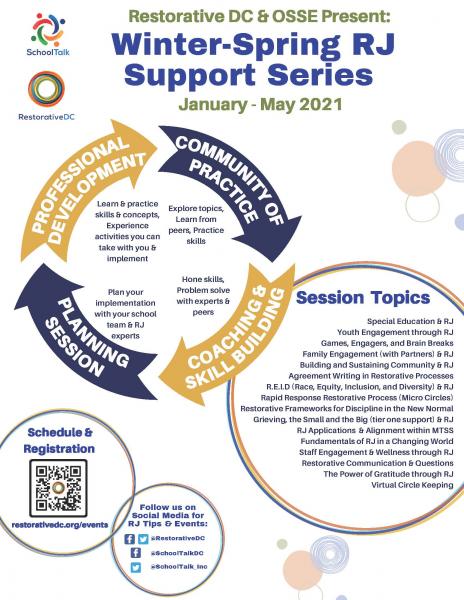 Restorative Justice Community of Practice - Listening and Sharing Sessions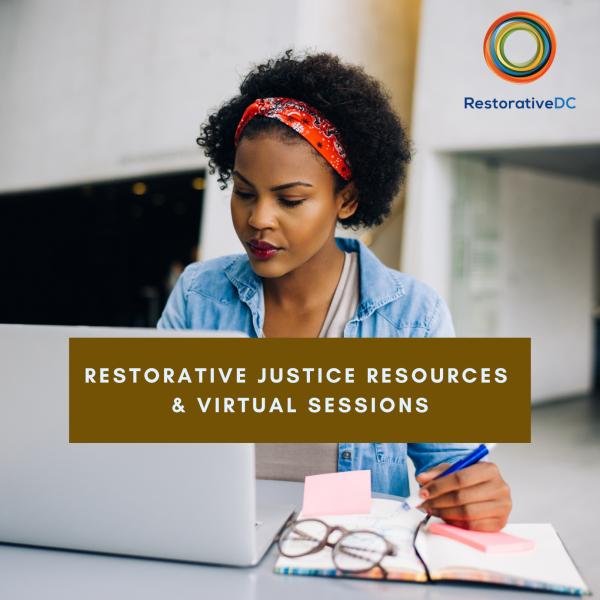 Join Restorative DC and other members of the DC school community for Restorative Justice Community of Practice (RJ CoP) meetings during the school year. We have designed these sessions to provide space for connection, grieving, celebration and supporting each other. Come as you are to be in community with others from schools across DC.
Throughout the 2020-21 school year, Restorative DC will sponsor RJ CoP meetings on the first Wednesday of every month to share experiences and explore topics related to restorative school implementation.
"In times of stress, the best thing we can do for each other is to listen with our ears and our hearts and to be assured that our questions are just as important as our answers." - Fred Rogers
Here are the dates for the upcoming meetings:
For questions, please contact Jessica Dulay at [email protected].