Charlene Cummings has taught science in the District of Columbia for the last 8 years. She currently teaches DP Biology at DC International High School, a unique school in which all students are enrolled in its International Baccalaureate program, where she has taught for the past 5 years. Charlene is the high school science co-coordinator in which she leads a team for vertical articulation, practices instructional strategies, and data analysis. Outside of the classroom, Charlene was a member of the Science Master Teacher Leader Cadre, which focused on supporting OSSE in the development and outreach around the Statewide Science Assessment. Charlene enjoys creating curriculum to give holistic, learning experiences for all her students and challenges them everyday to observe the world around them and seek out answers to their questions. Charlene has earned a B.S. in Biological Sciences and a minor in Ecology and Evolutionary Biology from The University of Connecticut and an M.Ed. in Curriculum and Instruction for Secondary Science Education from The University of Connecticut.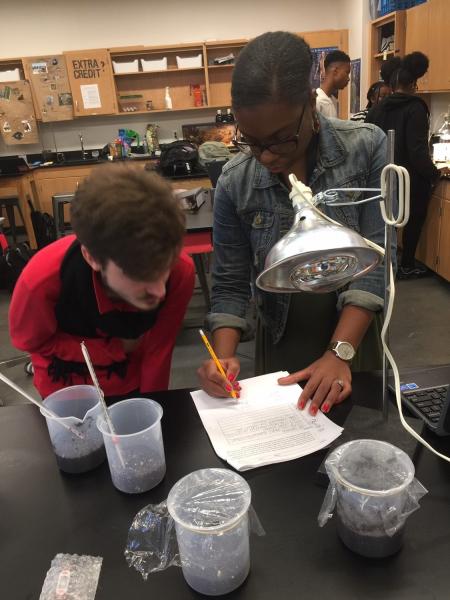 "The 'Ah Hah' moment that students experience when learning STEM gives me hope for the future and confidence that the next generation will apply their STEM knowledge and do everything they can to save the planet." -Charlene Cummings
---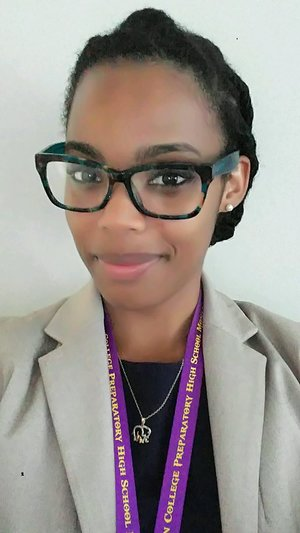 Ashley Kearney is a community organizer, education advocate, and proud member of Delta Sigma Theta Sorority, Incorporated. She lives by Luke 12:48 which states, "For everyone to whom much is given, of him shall much be required." She returned home to DC in 2012 to serve her community as a Teach for America DC Region Corps Member. During her first year in the district, she was recognized as 2012 New Teacher of the Year, 2012 7th Grade Math Teacher of the Year, and 2012 Overall Teacher of the Year at Ronald H. Brown Middle School. Ms. Kearney transitioned back to Ron Brown to continue her service as a high school math teacher in 2017, where she was awarded 10th Grade Teacher of the Year. She currently teaches Algebra 2 and facilitates District Professional Development for her content area, while also serving on the instructional leadership team at Ron Brown. She leverages her instructional leadership role to cultivate a culture of competency, curiosity, and collaboration whereby all math teachers feel supported in providing urgent, high quality and personable instruction that ensures every mathematician will experience a cohesive and joyful math journey and are equipped for societal change. Her membership and partnership with Carnegie Science and Aero Club Foundation has provided experiences to renowned guest speakers, networking luncheons, career shadowing, private tours, etc. to provide exposure to STEM in context for educators and students to help change the narrative for males of color. Beyond the classroom, Ms. Kearney used her community leadership co-launch a scholarship program for students of color, co-chaired organizations to elevate the voices of students, families, and concerned community members in securing political wins that helped shape policy for better outcomes for students, and served on the SY 18-19 Chancellor's Teachers' Cabinet to elevate teacher voice in helping to shape the future of DCPS. She continues this work as Teacher Leader in a nationwide teacher leader's network with the Washington Teacher's Union to take an active role in influencing policy in the areas of teacher leadership in social change, teacher preparation, ongoing professional growth, teacher networks and teacher evaluations.
"What I love about teaching STEM is the accountability factor, the direct connection to the sustainability and safety of our nation, and the fact that I am literally in the room with the next great male of color discoverers who have the ability to change our world for the betterment of our people." -Ashley Kearney
---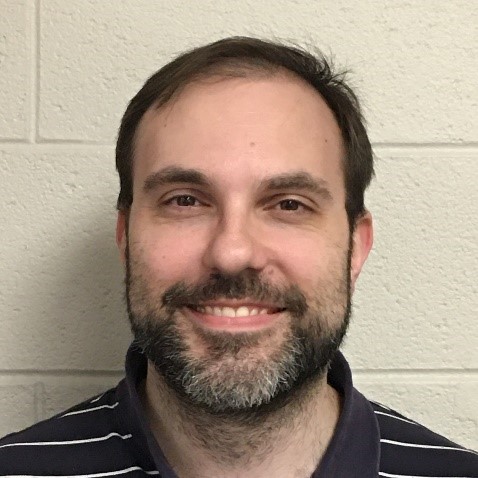 Thomas H. Schutt has been a high school math teacher in DC Public Schools for 11 years, for which he has served at the Columbia Heights Educational Campus (CHEC) during his full tenure. Thomas currently teaches AP Calculus AB and has taught many upper-level math courses including Algebra 2, Precalculus, Probability & Statistics, and AP Statistics. Thomas has also served as the Math Department Chair and LEAP Leader for CHEC for the last five years. Thomas is passionate about tapping into students' creativity when teaching mathematical concepts, for he believes that math and art are the two most closely related subjects. Thomas earned his B.A. in Mathematics at Earlham College in Richmond, Indiana, and earned his M.A. in Teaching with the Earlham Graduate Programs in Education. In addition to teaching mathematics, Thomas is also a bell ringer at Washington National Cathedral where he has rung for many national services.
"All students must have a strong STEM education, particularly in this era of misinformation, since Mathematics is the ultimate tool to formulate precise arguments that are grounded in facts and principles that are irrefutable." -Thomas Schutt
---
Will Stafford teaches high school math at E.L. Haynes Public Charter School. He is a Nationally Board Certified teacher and serves as a Master Teacher with Math for America DC. This is Will's 12th year teaching in DC and his 9th at E.L. Haynes, where he was part of the founding high school team. He enjoys creating a welcoming and challenging classroom environment for students to develop as mathematicians. Will has also served on the staff of the Park City Math Institute. Will holds a B.S. in mathematics from Haverford College and an M.A. in secondary math education from American University. He was a recipient of Teach for America's Edith Tatel award for excellence in secondary teaching. Will coaches boys varsity soccer and girls varsity lacrosse.
"I really enjoy creating opportunities in the math classroom for students to tap into their curiosity, creativity, and sense of excellence." -Will Stafford