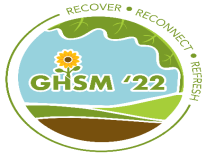 Growing Healthy Schools Month celebrates the health of students in public schools throughout the District. During the annual celebration, schools coordinate inspiring activities to engage students on nutrition, the environment and being active.
To celebrate Growing Healthy Schools Month 2022, the Office of the State Superintendent of Education (OSSE) is promoting the theme "Recover, Reconnect, Refresh." As many students return to in-person learning, it's our hope to revitalize students' sense of wellbeing and their connection to others and the environment. Each week of Growing Healthy Schools Month highlights a specific component that supports student wellbeing and relates to the 2022 theme "Recover, Reconnect, Refresh":
Oct. 3-7: Mental Health and Wellbeing
Oct. 10-14: Nutrition
Oct. 17-21: Outdoor Learning and Environmental Literacy
Oct. 24-28: Physical Education
Schools can pledge their participation in GHSM 2022 by completing at least one activity through the month of October in alignment with one of the weekly themes listed above. Schools may participate in GHSM in any order or fashion that best suits their students and school community. Participation and completion of activities aligned to all four weeks is encouraged, but not required.
Schools are encouraged to complete the participation pledge here.
OPTIONAL: Schools can submit proof of participation by filling out the Proof of Participation form here.
All schools that complete the participation pledge will receive a certificate of participation at the conclusion of GHSM. Schools can also receive a unique badge on their certificate for each weekly activity that is completed and submitted for proof (up to 4 unique badges). Certificates will be provided by Dec.1, 2022.
OSSE will be hosting a virtual award ceremony to celebrate those that participated in GHSM. Activities, resources and GHSM participation award information can be found below. We also encourage you to share how you are celebrating Growing Healthy Schools Month on social media using any of the hashtags #GHSM22 #GrowingHealthySchoolsMonth22 #HealthySchoolsDC.
Click here for sample morning announcements you can use to get students talking about the various themes of GHSM.
Growing Healthy Schools Month Awards
Growing Healthy Schools Month celebrates the health of students in schools throughout the District by making awards available. The application deadline for the GHSM award ceremony has been extended. Please submit your application here by Nov. 18, 2022. The virtual awards ceremony will take place on Dec. 1, 2022. All award applicants will receive recognition during the ceremony.
DC Recycle Right Competition Awards

The DC Department of General Services invites all DC schools (public, private, and charter) to participate in the DC Recycle Right! competition. This competition, designed to encourage correct recycling in classrooms, runs through the month of October. Awards include Highest Performance, Most Improved, and Most Replicable Solution. Use this link to register for the competition by Friday, Oct. 7, 2022. Please see the DC Recycle Right Competition Instructions for more information.

Brain Boost Award

Brain boosters are activities that get students moving during the school day and can be anywhere from 30 seconds to 3 minutes in length. Share one of the creative ways you have encouraged students to move throughout the school day, virtually, indoors, or outside. Silliness and creativity are encouraged! Examples include hula-hooping, dancing, jumping jacks, virtual activities and more.

The Gilda Allen School Garden Stewards

The District is home to more than 100 schools with gardens, and more than 10,000 students that engage in these gardens. We want to hear about yours! What makes you a school garden steward? We welcome you to share any meaningful experiences you've had with your school garden.

Farm to School Champion Award

Is someone at your school a champion for the farm to school movement? If so, nominate them for the Farm to School Champion Award! A Farm to School Champion could be a teacher, administrator, student, parent, or community member like a farmer who supports farm to school activities at your school.

School Meals Team Appreciation Award

Show some appreciation for your school meals team! This award is an opportunity for schools to celebrate their school meals team for their dedication and continued hard work throughout the school year. The School Meals Team Appreciation Award seeks to recognize schools that create and deliver thank you notes, drawings, or any other form of appreciation to their school's meal team.

Wellness Champ Award

The Wellness Champ Award recognizes the individuals in your school who help to develop and cultivate a culture of mental wellness and wellbeing for students, staff, and/or caregivers. The Wellness Champ positively affects their school community through innovative integration and promotion of wellness systems and activities in-person and/or virtually.
You can access prior Growing Healthy School's Month resources and activities on OSSE's website.
Related Services:
Service Contact:
General Questions Contact Email: [email protected]
Office Hours:
Monday to Friday, 8:30 a.m. to 5 p.m.