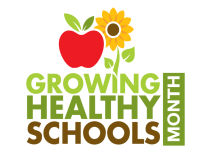 Growing Healthy Schools Month celebrates the health of students in public schools throughout the District. During the annual celebration, public schools collaborate with local community based organizations, District government agencies, farmers, athletes, and chefs to coordinate inspiring activities aimed at engaging students with topics concerning nutrition, the environment, and being active.

Here are the ways you can get involved:
Administrators: Register your school for the month. Registration allows OSSE to better support teachers and staff with conducting activities. The registration deadline is Oct. 31, 2017.
About Growing Healthy Schools Month
Growing Healthy Schools Month has evolved over the years to encompass many components of student health. This annual celebration grew out of Growing Healthy Schools Week (2012-2014), which itself was the fusion of DC School Garden Week (2007-2011) and DC Farm to School Week (2009-2011). The growth of this celebration over the past eight years is a testament to the importance OSSE places on the heath of students in the District.