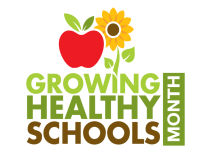 Growing Healthy Schools Month celebrates the health of students in public schools throughout the District. During the annual celebration, public schools collaborate with local community-based organizations, District government agencies, farmers, athletes, and chefs to coordinate inspiring activities aimed at engaging students with topics concerning nutrition, the environment, and being active.
Here are the ways you can get involved:
Take the Pledge: Pledge to get involved, be inspired, and take action during Growing Healthy Schools Month in October. Take the pledge
Be Inspired: Follow OSSE on Twitter and Facebook to see inspiring examples of how schools have celebrated in the past.
Get Involved: There are many ways you can get involved:
Nominate a Health and Wellness Champion
Plan activities promoting Growing Healthy Schools Month
Sign up to have OSSE guests visit your school in October to celebrate Growing Healthy Schools Month with your students and staff
Enter Growing Healthy Schools Month contests
Attend events that embody the goal of Growing Healthy Schools Month
Spread the Word: Share how you're celebrating Growing Healthy Schools Month on social media with the hashtags #HealthySchoolsDC.
Explore Resources: Check out our resources to help in planning and promoting Growing Healthy Schools Month in your school.
See resources and activities that are being promoted and supported by OSSE during Growing Healthy Schools Month
School Visits
OSSE staff and special guests want to celebrate Growing Healthy Schools Month with your school! Click here to sign up for various school visits including having someone serve lunch at your school, hosting a local farmer, having someone teach a lesson in your school garden, and more. Register today
Contests
Farm To School Champion Award
Is someone at your school a champion for the Farm to School movement? If so, nominate them for the Farm to School Champion Award! A Farm to School Champion could be a teacher, administrator, student, parent, or community member like a farmer who supports the Farm to School Movement at your school.
Winners will receive a prize and be recognized at our Growing Healthy Schools Month Celebration this Fall. Nominate someone today!
The Gilda Allen Best School Garden Award
DC is home to 134 schools with gardens but which is the best? Students are challenged to write a short essay answering the question: "Why is your school garden the best school garden in the District?" Register for the contest. See past winners and read their essays.
Brain Boost Award
Brain boosters are activities that get students moving during the school day. Entries can be anywhere from 30 seconds to three minutes in length. Silliness and creativity are encouraged. Submit a video or a description of a classroom brain boost/break activity to be considered for the Growing Healthy School's Month Classroom Brain Boost Award.
Office Hours:
Monday to Friday, 8:30 a.m. to 5 p.m.