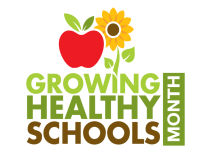 Growing Healthy Schools Month celebrates the health of students in public schools throughout the District. During the annual celebration, public schools collaborate with local community-based organizations, District government agencies, farmers, athletes, and chefs to coordinate inspiring activities to engage students on nutrition, the environment and being active.
To celebrate Growing Healthy Schools Month 2021, the Office of the State Superintendent of Education (OSSE) is promoting outdoor learning activities to engage schools in the different themes of the Healthy Schools Act: Farm to School, School Gardens, School Meals, Environmental Literacy, and Physical Activity. Schools are encouraged to use outdoor spaces for instruction and activities, as feasible and as weather permits. Activities, resources, and student award information can be found below. We also encourage you to share how you're celebrating Growing Healthy Schools Month on social media with the hashtag #HealthySchoolsDC.
General Questions Contact Email: [email protected]
Activities
Farm to School
Farm to School connects schools and local farms with the objectives of serving healthy meals in schools; improving student nutrition; providing agriculture, health, and nutrition education opportunities; and supporting local and regional farmers. Extend these goals beyond the school cafeteria, classroom, and garden by bringing farm to school home!
October is also National Farm to School Month, a time to celebrate the connections happening all over the country between children and local food. Everyone can celebrate National Farm to School Month! The National Farm to School Network has developed resources and activities to promote Farm to School Month in schools, early care and education settings, communities and media outlets. Please visit the National Farm to School Month website to access these great resources.
Learn about and eat locally grown foods.

Post the Choose What's in Season poster in your cafeteria or classroom.
Purchase foods grown in DC or a nearby state at the grocery store, farmers market or at the farm to increase your access to delicious healthy foods and support the financial viability of our regional farmers, producers and processors. It's a win-win!

Grow a garden – in real life or virtually.
Morning announcement to promote Farm to School

October is Farm to School Month! What will you do this month to eat and learn about local food?

Additional Farm to School resources

Learn more about farm to school by exploring these resources from our partners:
School Gardens
OSSE's School Gardens Program  envisions a future in which all District youth are engaged in high-quality garden-based learning. During Growing Healthy Schools Month, OSSE encourages students and families to celebrate school gardens by utilizing the resources and activities listed below.
Join the DC school garden community:

Join the Sprout it Out Google Group to ask a question or learn from others in the outdoor learning, school garden, and farm to school community.
Register to receive "Sprout it Out": OSSE's monthly newsletter for District school garden, farm to child nutrition programs, and environmental literacy efforts. 
Follow the OSSE School Gardens Program on Twitter! @OSSESGP

Find resources for your school garden or other outdoor learning space:
Join us for a School Garden Bicycle Tour on Saturday, Oct. 16, 2021, from 10 a.m. - 12:30 p.m. Learn more and sign up here!
School Meals
National School Lunch Week! Oct. 11-15

President John F. Kennedy created National School Lunch Week in 1962 to promote the importance of a healthy school lunch in a child's life and the impact it has inside and outside of the classroom. During this annual weeklong celebration, students around the country celebrate in their cafeterias, schools and districts with special menus, events, student activities and more. The COVID-19 pandemic has without a doubt shown just how incredibly important school meals are for students and their families.
During this annual weeklong celebration, School Nutrition Association (SNA) members and students around the country will find new ways to safely celebrate in their schools and districts with special menus, events, student activities and more. This week, pick a day to eat a meal or snack outside!
The 2021 NSLW theme Wild About School Lunch! will put a spotlight on hit menu items that kids love while capitalizing on the popularity of movies to appeal to students in all grade levels. Visit the School Nutrition Association website for resources, activities, and ideas for how to celebrate National School Lunch Week.
Environmental Literacy
Environmental literacy is the development of knowledge, attitudes, and skills necessary to make informed decisions concerning the relationships among natural and urban systems. Many community partners have developed content to support environmental literacy outdoors and at home. Through these lessons and activities, students can explore the world around them and discover their connection to the natural world. Access environmental literacy distance learning resources here.
Want to create an outdoor learning space for your school but don't know how? OSSE has contracted with a vendor to provide technical assistance to District schools to help design outdoor learning environments. Technical assistance includes a site assessment and individualized recommendations for schools, and professional development to help teachers accelerate learning outdoors. Learn more here. Apply now by visiting bit/ly/DCApplyNow.
Want to go on a virtual environmental field trip? Check out a recorded video from the Nature Connections: Livestream with Environmental Experts series.
Get outdoors and investigate your schoolyard habitat! Check out these resources from the new Capital LEAF program for green, healthy, sustainable schools.
The DC Department of General Services (DGS) invites all DC schools (public, private, and charter) to participate in the DC Recycle Right! Competition. This competition, designed to encourage correct recycling in classrooms, begins the first week of October. Please visit the Department of General Services website for more information.
Make your own hand soap! Frequent hand washing is a healthy practice, and you can make a non-toxic, earth-friendly version at home that reduces plastic and can save money in the long run! Just grate 1 tablespoon of castile soap into a glass jar, carefully add ¾ cup of boiling water (ask an adult for help!), and stir to dissolve soap flakes. Let cool before adding optional essential oils, then pour into a reusable soap dispenser.
Want to get some exercise and help the environment at the same time? Try plogging – a fitness trend where you pick up litter while you're out for a run! Visit the Potomac Conservancy website for more information.
Morning announcement to promote Environmental Literacy
Did you know that DC's state tree, the scarlet oak, is one of the five trees in our city with the "showiest" fall color? The other trees are ginkgo, red maple, sweetgum, and black gum. See if you can find one of these trees in your neighborhood!
What is your favorite thing about fall? Pick one of the choices in the poll below:

Pumpkins
Walking through leaves
Cooler weather
Physical Activity
Health and Physical Education are important components of a healthy learning environment, and healthy bodies and minds are the foundation of academic success. OSSE encourages students and families to continue celebrating the positive impact of physical activity while remote learning. Below are resources and ideas for how to promote physical activity while learning from home.
Washington Tennis & Education Foundation
Fitbound Facebook page

Fitbound is an exercise platform which provides an outlet for all individuals with and without disabilities to exercise throughout the day. Visit their Facebook page to access their physical activity and meditation resources for students and families.
Growing Healthy Schools Month Awards
Growing Healthy Schools Month celebrates the health of students in public schools throughout the District by making awards available. Submit your application here by November 5, 2021. The virtual awards ceremony will take place on November 16, 2021.
Brain Boost Award

Brain boosters are activities that get students moving during the school day, and can be anywhere from 30 seconds to three minutes in length. Share one of the creative ways you have encouraged students to move throughout the school day, virtually, indoors, or outside. Silliness and creativity are encouraged! Examples include hula-hooping, dancing, jumping jacks, virtual activities, and more.

Gilda Allen Best School Garden Student Award

Encourage students to respond to the question "Why is your school garden is the best school garden in the District?". Students may also submit up to 5 photos of your school gardens.

Farm to School Champion Award

Is someone at your school a champion for the farm to school movement? If so, nominate them for the Farm to School Champion Award! A Farm to School Champion could be a teacher, administrator, student, parent, or community member like a farmer who supports farm to school activities at your school.

School Meals Team Hero Award

Last year, school meal teams were dedicated to making meals in the midst of constant change and challenges. This award is an opportunity for schools to celebrate their school meals team for their dedication and continued hard work throughout the school year.

Wellness Champ Award

The Wellness Champ Award recognizes the individuals in your school who help to develop and cultivate a culture of mental wellness and wellbeing for students, staff, and/or caregivers. The Wellness Champ positively affects their school community through innovative integration and promotion of wellness systems and activities in-person and/or virtually.
You can access prior Growing Healthy School's Month resources and activities on OSSE's website.
Related Services:
Service Contact:
General Questions Contact Email: [email protected]
Office Hours:
Monday to Friday, 8:30 a.m. to 5 p.m.