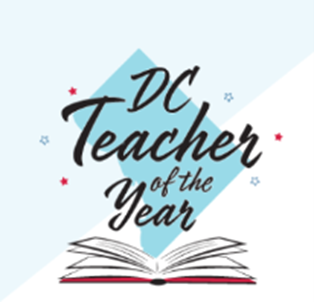 The DC Teacher of the Year program celebrates outstanding educators who are experts in their craft as demonstrated by accelerated growth for all students, and who demonstrate leadership beyond the classroom by partnering with colleagues, students, families and communities to support innovation in teaching and learning, and who champion the teaching profession.
2024 DC Teacher of the Year Nomination and Application Process
OSSE is searching for the 2024 DC Teacher of the Year! We are seeking nominations for outstanding teachers who:
Inspire and accelerate growth for all students
Build strong partnerships with families and communities
Champion the teaching profession
Administrators, colleagues, LEA and school staff, parents, students, and community members can all submit nominations. Self-nominations are also acceptable. Please complete the 2024 DC Teacher of the Year Nomination Form by the deadline of May 12, 2023.
For a teacher to be eligible for this award, they must be a current teacher in a DC public school or public charter school and must plan to continue as a teacher in DC for the 2023-24 school year. The 2024 DC Teacher of the Year will receive a $7,500 award, professional development and leadership opportunities, and will represent DC in the 2024 National Teacher of the Year competition.
All nominees will receive an email from OSSE with instructions on how to complete the full application process. The deadline to apply is June 25, 2023. OSSE will announce the 2024 DC Teacher of the Year winner by October 2023.
For questions, please contact [email protected].
2023 DC Teacher of the Year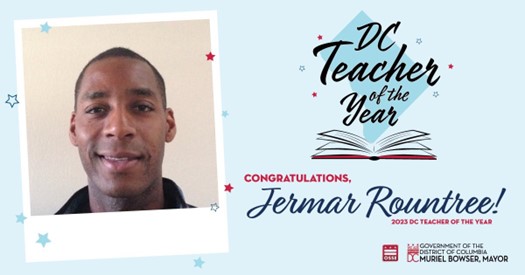 2023 DC Teacher of the Year and 2023 National Teacher of the Year Finalist: Jermar 'Coach' Rountree, Pre-K to 8th Grade Health & Physical Education Teacher, Brightwood Campus - Center City Public Schools
View Jermar Rountree's profile
Follow Jermar on Twitter @jermar_rountree
2023 DC Teacher of the Year Runners Up:
Alex Clark, Health & Physical Education Teacher, Dunbar High School
Brandyn Marshall Poole, Seventh and Eighth Grade Mathematics Teacher, Center City PCS - Trinidad Campus
Luz Mireya Pelaez Lopez, Pre-K3 and Pre-K4 Spanish Immersion Teacher, Marie Reed Elementary School
Past DC Teacher of Year Awardees
2022
Teacher of the Year: Dominique Foster, Pre-K4 Teacher, Blow-Pierce Academy, Friendship Public Charter School
View Dominique Foster's profile
Follow her on Twitter @FosterLovesEdu
Runners Up:
Dr. Takeisha Wilson, Fourth Grade Teacher, Shepherd Elementary School
Rickita Perry Taylor, Special Educator, Tyler Elementary School
2021
DC Teacher of the Year and National Teacher of the Year Finalist: Alejandro Diasgranados, Fourth and Fifth Grade English Language Arts/Social Studies Teacher, Aiton Elementary School
View Alejandro Diasgranados' profile
Follow him on Twitter @ThatDCTeacher
Runners Up:
Lauren McKenzie, Social Studies Teacher and Teacher Leader Innovation Team Member, Ron Brown Preparatory High School
Shelina Warren, Social Studies Teacher and Director of the Law & Public Policy Academy, Paul Laurence Dunbar High School
2020
Teacher of the Year: Justin Lopez-Cardoze, Seventh Grade Science Teacher, Capital City Public Charter School
View Justin Lopez-Cardoze's profile
Runners Up:
Elizabeth Barkley, English, Social Action/Human Rights, and Global Perspectives Teacher, Cardozo High School
Dr. Daniel Spruill, K-8 Music Teacher and Choir Director, Center City Public Charter School Brightwood Campus
Press Releases