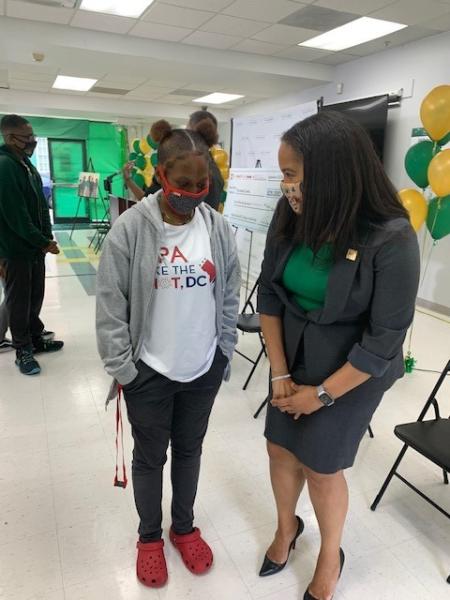 The pandemic brought with it many challenges for educators, students and families – but it also reinforced that the best place for children to learn is in classrooms, in person with their peers and teachers. When the District committed to reopening schools for in-person learning for the 2021-22 school year, it was a commitment to meeting the academic, social-emotional and health and safety needs of all students.
Vaccinating Education Stakeholders and Students
In January and February of 2021, when COVID-19 vaccines were first becoming widely available, OSSE joined forces with DC Health, Children's National Hospital and One Medical to ensure educators, support staff and OSSE Division of Student Transportation (DOT) staff were among the first in line to get their shots. By the time District-wide vaccination registration launched in March 2021, at least 11,000 DC education stakeholders had received vaccines through dedicated portals. OSSE teams also helped ease vaccine hesitancy among the education community by hosting information sessions and connecting residents with expert speakers. When District youth ages 12 and older became eligible for the vaccine, OSSE stepped up efforts to galvanize participation among school communities, supporting the Youth COVID-19 Vaccine Raffle. The program awarded iPads and $25,000 scholarships to DC students who did their part to protect themselves along with their classmates, teachers and families.
Providing Health and Safety Technical Assistance and Supports for Schools
OSSE has provided local education agencies (LEAs), schools and families with much-needed supports and critical information from the onset of the pandemic. Over the course of 2021, OSSE delivered 22 technical assistance calls and 12 monthly LEA leader meetings to ensure school leaders and educators had the tools they needed to implement the critical health and safety guidance from DC Health. OSSE also provided supports to help LEAs communicate key policies and practices to families via resources in as many as nine languages. OSSE also connected LEAs with local and national experts, including the Rockefeller Foundation, the US Department of Education (USED) and the Centers for Disease Control and Prevention (CDC), to help them stand up and strengthen COVID-19 protocols inside schools.
Implementing Robust COVID-19 Testing and Contact Tracing
Safely reopening schools and ensuring that students could remain in person required a comprehensive COVID-19 testing and contact tracing strategy. Before students, educators and staff reentered classrooms for the 2021-22 school year, OSSE worked to establish a centralized, school-based COVID-19 testing program at DC Public Schools and participating public charter schools. The ongoing centralized program, which included 34 LEAs, administered more than 124,000 tests from the start of the 2021-22 school year through December. Another 32 LEAs received funds from OSSE to operate a new or existing COVID-19 testing program. Charter LEAs also had access to centralized contact identification support from a vendor and up to two $2,000 stipends for charter staff per school. OSSE also provided a slew of supports to complement the program and funding, including weekly office hours and technical assistance calls and Communities of Practice for charter LEAs.
Investing in DC's Early Childhood System
Throughout the pandemic, the District's early childhood education providers have offered safe, nurturing environments for the District's youngest learners while also ensuring working families have the support they need to succeed. OSSE's Division of Early Learning (DEL) ramped up supports for both providers and families to further sustain those critical efforts.

With continued support from Mayor Bowser and through federal relief, the District's child care sector received millions in financial support in 2021. In March, Mayor Bowser announced the District would allocate $10.7 million for a new grant program to deliver financial relief to licensed child care facilities and create a $3 million fund for targeted assistance to providers affected by the public health emergency. In addition, the previously announced DC Road to Recovery Fund was expanded from $2.8 million to $5.8 million, enabling that program to fund grants to all eligible applicants. Combined with the $5 million in DC Child Care Relief Fund grants made to 90 percent of child care providers in the fall of 2020, these programs resulted in more than $24 million in direct financial assistance to District child care providers during the public health emergency.

Also in 2021, OSSE started the process to distribute more than $38 million in additional relief funds in fiscal year 2022 (FY22). DEL ensured timely, accurate monthly child care subsidy payments to participating providers–nearly 55 percent of the District's child care facilities–distributing more than $8 million each month. Subsidy providers also received the Public Health Emergency subsidy rate through September 2021, increasing payments in recognition of the increased costs of delivering child care during the pandemic.

Understanding that financial supports needed to be paired with comprehensive technical assistance and supports, DEL engaged early childhood stakeholders throughout 2021, holding 25 meetings to share information on health and safety, vaccines, subsidy policies, licensing, COVID-19 relief funds and quality initiatives. As a result of these combined efforts, the number of slots at licensed child development facilities in the District increased during the pandemic, from 26,976 slots in February 2020, to 27,603 slots by the end of 2021.
Ensuring Food Access and Meals for Students
Providing children in the District with access to healthy, nutritious meals does much more than fill bellies – it gives children facing food insecurity a fair shot at succeeding in school and beyond. From the onset of the pandemic and throughout 2021, OSSE's Division of Health and Wellness (H&W) supported communities in meeting the nutritional needs of children. In 2021 alone, H&W assisted sponsors and schools in serving approximately 14 million meals to DC children and families with a variety of flexibilities; assisted in providing $159 million in Pandemic Electronic Benefit Transfer (P-EBT) benefits to 92,337 students to date; utilized 31 COVID-19-specific United States Department of Agriculture (USDA) waivers; and provided 90 hours of training.
Investing in High-Impact Tutoring (HIT)
Many students, especially those who are at-risk, experienced disrupted instruction during the pandemic. Many of these students were already behind their peers academically, and initial findings indicate they have fallen even further behind over the last year. OSSE acted swiftly to address the gaps left by interrupted learning and took a number of actions in 2021 to establish HIT infrastructure in the District. Part of that work included awarding $3.2 million through the Office of Out of School Time Grants and Youth Outcomes (OST) to community-based organizations that are providing HIT in District schools and at sites across the community. The pilot grant will fund tutoring for 1,665 DC students in the 2021-22 school year. OSSE also developed and promoted HIT standards and launched access to a high-quality K-8 online math program for use by 40 schools to help accelerate student learning over the summer and during the school year. OSSE also committed to investing $41 million over the next three years to help scale access to high-quality HIT across the District and build ecosystem capacity. These supports are all in addition to LEA investments.