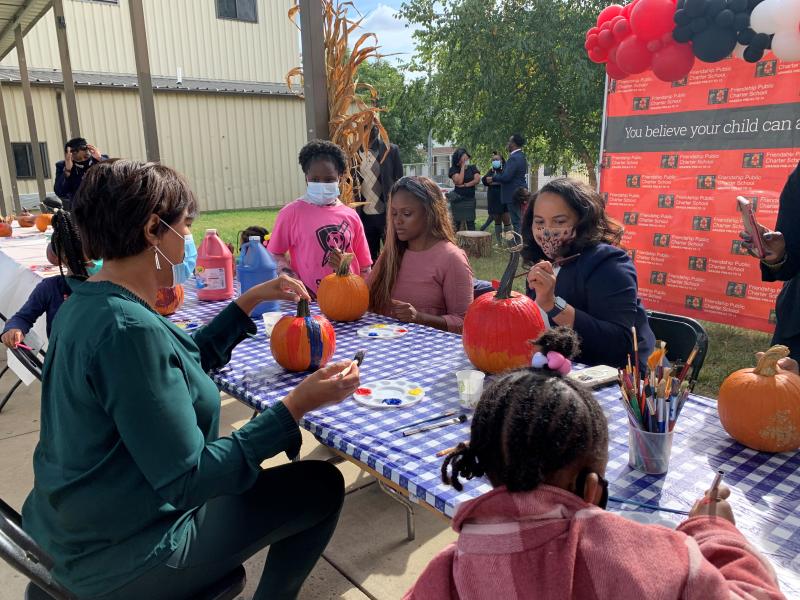 Dominique Foster named 2022 DC Teacher of the Year
During an October 2021 event disguised as a leaf collection and pumpkin composting demonstration, State Superintendent Christina Grant joined Mayor Muriel Bowser in October to surprise Dominique Foster, a pre-K teacher at Friendship PCS – Blow Pierce Elementary, with the 2022 DC Teacher of the Year Award. Foster, who has been teaching for 13 years, received prestigious honor, which comes with a $7,500 prize, in front of her students, colleagues, friends and her daughter. Awarded annually, DC Teacher of the Year recognizes a DC Public School or public charter school teacher who has demonstrated outstanding leadership and commitment to student achievement.
Honoring Excellent DC Educators
The critical role of teachers in the lives of District students continued to be evident in 2021 as educators across the city worked tirelessly to meet student needs and accelerate learning amidst challenging circumstances. OSSE had the honor of recognizing several outstanding educators in 2021. Alejandro Diasgranados, a teacher at Aiton Elementary
School and the 2021 District of Columbia Teacher of the Year, was named as a Top Four Finalist for the National Teacher of the Year award. He leveraged this platform to advocate for better representation in the educator workforce, especially for Black male students.
In their roles as 2021 DC TOY runners up, Shelina Warren, social studies teacher at Paul Laurence Dunbar High School, and Lauren McKenzie, social studies teacher at Ron Brown College Preparatory High School, showcased culturally responsive and inclusive instructional practices, and empowered students to use their voices for social justice. Caneisha Mills, an 8th grade US History teacher at Rose L. Hardy Middle School, was named the 2021 District of Columbia History Teacher of the Year. These teachers demonstrate excellence in their instruction and dedication to students and families throughout the District and serve as role models for their colleagues.
Teacher and Principal Advisory Councils
In 2021, OSSE continued to leverage the Superintendent's Principal Advisory Council (PAC) and Teacher Advisory Council (TAC) to serve as a brain trust and thought partner for OSSE leadership around critical topics such as educator wellness, serving students with disabilities, high-quality literacy instruction and materials, and leveraging microcredentials to strengthen educator practices. The TAC and PAC also shared insights, suggestions and feedback on OSSE initiatives and resources to support educators, schools and LEAs during the pandemic and in planning for recovery. The TAC and PAC consist of diverse educators, representative of the teacher and school leader workforce across the city, including traditional public and public charter schools.