Strawberries and Salad Greens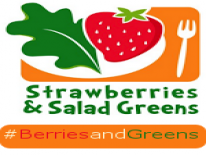 Over the last few years, DC schools have come together to provide its students with locally grown juicy strawberries and crunchy salad greens on a special day in celebration of supporting local foods. This year, the Strawberries & Salad Greens Day will be held on May 29 and students will have the opportunity to taste locally-grown strawberries and salad greens right from their cafeteria, while also learning about other fruits and vegetables that can be grown right in our own backyards!
If you are a school that is interested in participating in Strawberries & Salad Greens Day this year, please sign up here: Strawberries and Salad Greens Sign-Up Form.
Questions about other ways to get involved in this event? Contact OSSE's Farm to School Specialist, Erica Steinhart, by email at Erica.steinhart@dc.gov or by phone at (202) 442-8940 for information about how to sign up. Participating schools can send us pictures of their events by either tweeting @OSSEDC with the hashtag #BerriesandGreens.
Resources:
Contact Suite #:
Wellness and Nutrition Services
Office Hours:
Monday to Friday 8:30 am to 5 pm