DC College Application Week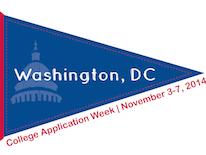 What is College Application Week?
The American College Application Campaign launched by the American Council on Education (ACE), is a national effort to increase the number of first-generation and low-income students who pursue a postsecondary education. The purpose is to help high school seniors navigate the college admissions process and ensure that each participating student submits at least one admissions application. Special focus is placed on assisting students who would be the first in their families to attend college and students who may not have otherwise seriously considered applying to college.
DC College Application Week
DC College Application Week will take place from November 3 to 7, 2014 during school days and hours.
Application to Participate
To register as a host site you may complete the College Application Week Site Coordinator Application.
Deadline to apply as a 2014 host site was Friday, August 22, 2014, but we still have space available. Sign up today!
For information and resources on how to get your school involved, access the links below:
Additional Resources