National Teacher Appreciation Week
National Teacher Appreciation Week
A Special Message from the State Superintendent to All D.C. Educators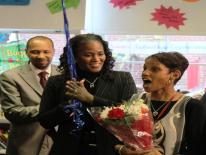 Dear District of Columbia Teachers,
On behalf of the Students, Administrators, Parents, Families, Lifelong Learners, Elected Officials and Education Advocates of the District of Columbia, we thank you all for your exemplary service. In commemoration of National Teacher Appreciation Week, we would like to say that we are proud to honor you this week.
The results of exceptional teaching resonate throughout a child's lifetime, and Teacher Appreciation Week presents an opportunity to acknowledge the exceptional educators who are in the classrooms, demonstrating the best D.C. has to offer in public education and doing the work needed to raise student achievement across the District.
At the state level we are working diligently to help reduce the amount of barriers that obstruct teachers from doing what they do best: Teach our students. Every school succeeds because of what takes place in our classrooms and with the teachers that lead them. As a parent of a DCPS fourth grader, I know that I speak for parents across the District when I say how much we appreciate what you do each and every day.
Sincerely,
Hosanna Mahaley, State Superintendent of Education