Office of the State Superintendent of Education

Office Hours
Monday to Friday, 8:30 am to 5:00 pm
Connect With Us
810 1st Street NE, 9th Floor, Washington, DC 20002
Phone: (202) 727-6436
TTY: 711
Email:
osse@dc.gov






Agency Performance
FY 2014 Infant and Toddler Facilities Improvement Grant Recipients
Image: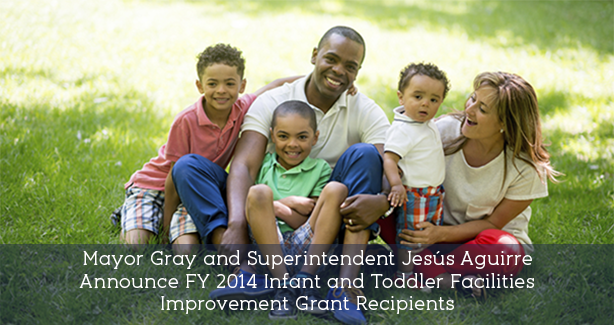 Grants tackle demand for high-quality Infant/Toddler childcare.
Featured Content Items:
Mayor Gray and Superintendent Aguirre Announce FY 2014 Infant and Toddler Facilities Improvement Grant Recipients
Grants Tackle Demand for High-Quality Infant/Toddler Childcare
(WASHINGTON, D.C.) – Mayor Vincent C. Gray and State Superintendent of Education Jesús Aguirre announced today the Fiscal Year 2014 Infant and Toddler Facilities Improvement Grant recipients at the Spanish Education Development (SED) Center, one of 13 grant beneficiaries.
The Office of the State Superintendent of Education (OSSE) sought applications from high-quality infant and toddler providers in the District to address the unmet demand for high-quality infant and toddler childcare. Through this opportunity, and in support of Mayor Gray's citywide plan to provide a high-quality education to all, OSSE aims to increase infant and toddler capacity by, at minimum, 200 new slots for children ages six weeks to 36 months in targeted areas of the District.
"In order to meet the needs of the District's fast-growing student population, we need to ensure District families have access to high-quality infant and toddler childcare in addition to quality schools," Mayor Gray said. "And, through these grants, I look forward to seeing the District both fulfill the unmet demand that exists in infant and toddler programs as well as expand quality early-learning programming for our children across the District."
Out of 36 applications, OSSE awarded 13 applicants funding to aid in the expansion of current high-quality childcare services and programs. The grants may be used for new facilities development and pre-development; facilities renovations, repairs, and move-in; and start-up expenses, such as early childhood classroom materials, equipment, professional developments costs, and additional eligible activities.
"We're pleased to offer the Infant and Toddler Facilities Improvement Grant for the second year in a row and to support our early-learning providers with funding to increase the number of high-quality infant and toddler slots," said State Superintendent Aguirre. "Thanks to the Mayor's continued support and staunch advocacy, we received additional funding to expand from providing 80 slots last year to offering 200 new slots in the upcoming year. This will continue our effort to advance our goal of ensuring all District residents – from birth to college or careers – have access to a world-class educational system."
"The District of Columbia continues to be the foremost leader in early-childhood education in the nation," said Deputy Mayor for Education Abigail Smith. "This grant opportunity is part of our ongoing effort to ensure that our youngest children enter school ready to learn."
The District currently serves 3,618 infants and toddlers in over 300 child development centers and homes that participate in the subsidized childcare program, and the grant serves to empower parents with quality educational childcare services by expanding the number of high-quality childcare programs across the city – and particularly in Wards 1, 4, 5, 7, and 8.
Applications meeting the aforementioned requirements in expanding in one of the targeted wards; having a "GOLD" tier designation in OSSE's tiered reimbursement-rate system; and utilizing construction methods aligned to Mayor Gray's Sustainable DC Plan received priority consideration as outlined by the Request for Proposals (RFP).
"Access to quality child care is a primary indicator of future success for children," said SED Center Executive Director Martha Egas. "Thanks to the Infant and Toddler Facilities Improvement Grant award by Mayor Gray, State Superintendent Aguirre and OSSE, we can begin our plans to convert 2,200 square feet of existing space, thus enabling the SED Center to care for an additional 32 infants. This will decrease our infant waiting list by 18 percent and allow us to meet the continuing need of the community since SED's Infant/Toddler program establishment in 2009."
"I am delighted to hear that SED is a recipient of this much-needed grant," said Yasmina Castellanos, a SED Center parent and former SED Center student. "As a parent, it pleases me to know that a fourth generation of mine will benefit from the center's expansion. The program at SED gave my children unforgettable and rich experiences where they could learn their native language as well as English in an immersed class setting. Thanks to the SED Center, this beginning allowed my children to go on to bilingual schools as a result of the fundamental educational base that included language immersion, creativity, confidence, problem-solving skills and sensitivity to diversity provided by the program in our community. So, I'm excited and look forward to the seeds that the SED Center will plant in our little one and to see the fruit that will flourish in a few years."
The FY 2014 Infant and Toddler Facilities Improvement Grant recipients are:
APPLICANT

WARD

LOCATION OF SERVICES

FUNDING

CentroNia

4

1288 Upshur St. NW,

WDC 20011

$250,000

Community Education Research Group

8

2503 Good Hope Rd. SE, WDC 20020

$200,000

Easter Seals

1

2800 13th St. NW,

WDC 20009

$50,000

Edward Mazique

Multiple Sites

1719 13th St. NW,

WDC 20009

$500,000

Israel Manor Inc.

5

1251 Saratoga Ave. NE, WDC 20018

$41,000

Lia's Rainbow

7

4428 Ord St. NE,

WDC 20019

$99,000

Love and Care CDC

5

340 Rhode Island Ave. NE, WDC 20002

$100,000

Loving Daycare Nursery

5

1818 New York Ave. NE, #101, WDC 20002

$300,000

Mamie Ruth Mewborn Child Development Home

7

5307 E Capitol St. SE,

WDC 20024

$100,000

Manley Science & Technology Center*

7

4628 H St. SE, WDC 20019

$68,797

Rainbow Readiness for Tomorrows Scholars

7

505 57th St. NE, WDC 20019

$250,000

Southeast Children's Fund

8

4233 6th St. SE, WDC 20032

$75,000

Spanish Education Development Center

4

4110 Kansas Ave. NW,

WDC 20011

$200,000

TOTAL

$2,233,797
In addition to the grants, the District is continuing to build on its work to expand infant and toddler slots by placing an equal emphasis on ensuring high-quality childcare among new and existing childcare service providers. Through OSSE, the District is raising those standards by aligning to the evidence-based Early Head Start model; allowing infant and toddler educators to be compensated on a competitive level; and providing intensive and continuous supports to infant and toddler childcare providers through the establishment of neighborhood-based quality improvement hubs.
These upcoming neighborhood-based quality improvement hubs will be responsible for providing comprehensive services and technical assistance to D.C. childcare centers and family childcare homes to ensure compliance with Early Head Start standards. In addition, OSSE will track the impact that these hubs have on the District's broader goals of ensuring children are ready for school, improving infant and toddler development and learning, and preparing children for the transition into pre-K. The effort to establish these centers is currently underway with various District government agencies, the national Head Start office, community-based organizations, homes, and centers.
One-Stop Education Resource
Find out what your kids are learning, data on local schools and services to support young children.