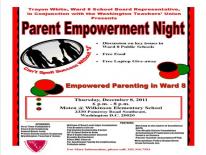 Last Date:
Location:
Moten @ Wilkinson Elementary School - 2330 Pomeroy Rd, SE
Details:
Join Trayon White, Ward 8 State Board of Education Representative, and the Washington Teachers' Union for their Parent Empowerment Night. Enjoy a discussion of key issues facing Ward 8 Public Schools as well free food and a laptop giveaway.
Sponsors of the Event Include: First Time Computers, Coca-Cola company, United Black Fund, Washington Teachers' Union, Prince Construction Company.
Community Partners Include: DCPS, The Wright Vision Foundation, Metropolitan Police Department, Great Schools, Inc., DC School Reform Now, Parklands Community Center, The Brothers Circle.